'IIT Bombay Campus Map - The re-designing of the map'

The process of campus map re-design began with analyzing the existing map. Following questions were asked regarding the map:
• Is IIT B an island? The surrounding blue colour creates this impression.
• Does the number 42, stand for the main gate? No, but it seems so at first glance.
• Quick exercise-Locate Solar Lab on the map.

Further Comments on the Map:
• Is sewage plant important?
• If you find a number in the map, the reverse search is easier.
• Since the numbers on the map are scattered the area for search increases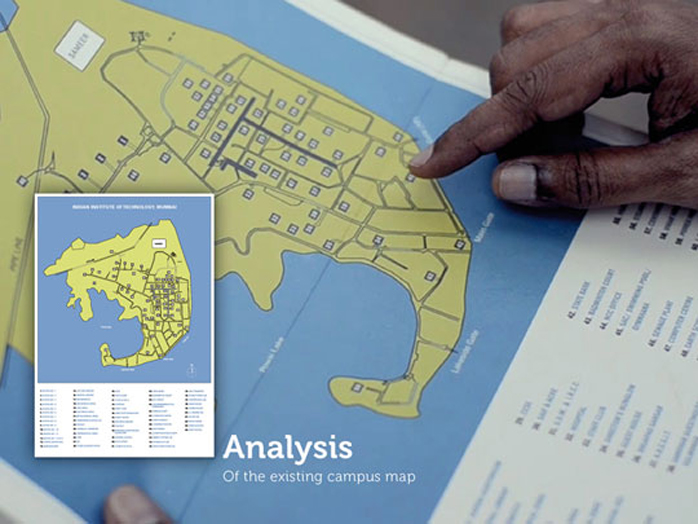 Slide - 1



In reality IIT Bombay is not an island. There is a lake nearby but it lies to the left of the campus. This is a case of incorrect graphical representation.


Slide - 2



Lot of people on seeing this map concluded that 42 is the main gate. 42 in fact, is a bank on campus. This mistake is made as proximity principle comes into play.

Proximity Principle:
Elements that are close together are perceived to be more related than elements that are farther apart.1

Reference: Universal Principles of Design by William Lidwell, Kritina Holden, Jill Butler

Slide - 3



To understand this map fully, one must use it. Let us try to locate Solar Lab on the map. First we will have to look it up in the legend. When we started reading the legend and could not find Solar Lab in the first four columns, we were disappointed. We felt perhaps this name has been omitted accidently. Solar Lab lies in the last column and one will have to go through the entire legend to be able to find it. We found this to be time consuming. Solar lab has number 61 before it. Now it is time to look for number 61 on the map.

Slide - 4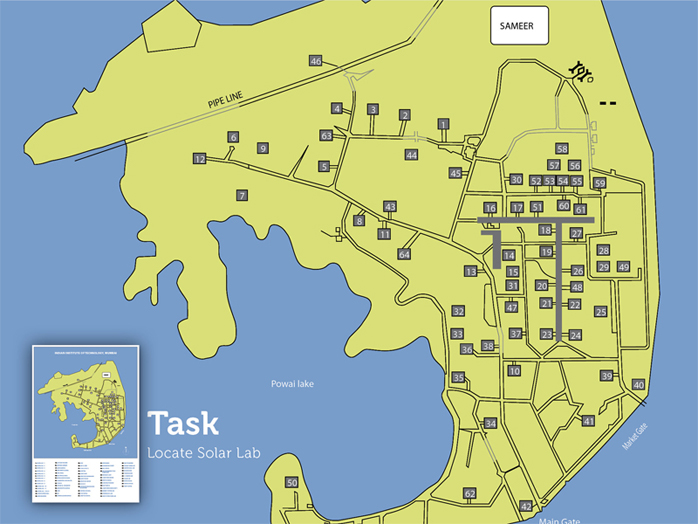 We started searching for 61 from the top left of the map and realized that the numbers are scattered, that is, they do not follow any particular order in which they appear. We finally located 61 towards the right of the map. This process was time consuming too. It means each time one intends to use this map one will have to search through entire legend and then the entire map to be able to locate the desired destination.

• Can this search time and search area on the map be reduced?
This became our main aim apart from making the map easy to use and increasing its ability to be learnt and recalled.

The numbers, though they appear orderly in the legend are scattered on the map, where they matter the most. This increases the searching time/ understanding time in case of the map. The user has to search/ scan the whole map to find something; there is no clue from where to start. Order is necessary in the legend but not at the expense of being able to locate the desired destination on the map.