While the big studios were involved with outsource work, building infrastructure and training the manpower, smaller boutique studios had surfaced across different cities big or small. With a team of 20 to 40 people these studios were involved in the production of their own material like advertisements, music videos, co-operate films and their own short films.

Some of these studios are Animatix, 2nz animation, Wondertoons, Animagic India, Famous House of Animation, Paperboat, Eeksaurus, Vaibhav studios, Hopmotion.

Animatix Studios

In 1994, Tulika publications and California-based First Serve Entertainment came up with a 2D animation project for Indian kids called 'Tara Ki Duniya'. This 13 episode Hindi series was made in 1996 in a small studio called 'Animatix' (1994-1999). It was run by an IDC, IIT Bombay Alumnus Phani Tetali, in Chennai. Telecasted on the National Network about 4 times during 2000-2001, Animatix with a team of 25 went on to get involved in advertising projects and pitches for some international projects.

Animagic India




Drawn by the idea of working independently, graduates of IDC IIT Bombay Sumant and Gayatri Rao registered a company in 93'. Chetan Sharma joined them in 97' and the trio started off as Animagic with the idea of making their own films.



Chetan Sharma, Gayatri Rao and Sumant Rao

An NGO called Aseema who works for street children approached Animagic to make a short film. 'Raju and I' a 30-minute animated film highlighting the rights of a child to education garnered about 14 awards. It brought in more projects like 'Chakachak' and various other animated advertisements. They went on to produce a 78 min mythological epic called 'Tripura- The three cities of Maya' in association with Amar Chitra Katha and Turner Entertainment Networks, for The Cartoon Network.
 

Famous House of Animation




With an interest in creating Animation content in 1998 Famous Cine Labs & Studios Ltd. in Mumbai established their division 'Famous House of Animation'. With E. Suresh heading it, a team of about 10 people including Vaibhav Kumaresh and Geetanjali Rao worked together on a TV series of Amar Chitra Katha stories. With limited resources the team worked round the clock to produce their pilot project, which was stalled due to the lack of proper marketing strategies. However, this opened up newer opportunities for the studio.
 
'Consciously we were trying to put in different interesting styles and mediums of animation into the market.'
— E.Suresh

Putting on the marketing hat the studio went around meeting various channels like MTV and Channel [V] to pitch their projects. FHOA became a production house. Ad agencies woke up to the sharp storytelling techniques, the best ones being Poga and the Simpu series. The studio went on to set high benchmarks in the industry by employing different mediums like 2D and 3D animation, as well as claymation. This lead to the acceptation of animation as a storytelling medium rather than a decorative one. The efficiency of the team striving towards meticulously created work was reflected upon their client's sales chart.

Some of the FHOA's award winning works include 'The Freedom Song' (short film), MTV 'Poga' (MTV Channel Promo), 'Levis Slim', 'ICICI Chintamani', 'Sulekha.com' commercial, Tortoise and hare 'Amaron batteries' campaign, ad films on 'HIV- Chunnilal' for BBC Worldwide and many more. It also produced the first animated music video in India called 'Bindu' on the famous old Indian song.
Image source:
Eeksaurus Studio

FHOA was perceived as a technical house, the fact that they were directing their own films was not known to clients. With a vision to expand this horizon E. Suresh and his wife Nilima started their own studio called 'Eeksaurus' in 2009.

Eeksaurus Studios




With a team of over 50 the studio provided a bigger canvas than what FHOA was. Along with path breaking advertisements for 'Usha sewing machine' and 'Google Chrome's Tanjore Art', short films like 'Tokri' and 'Fisherwoman' (work in progress), Eeksaurus has made multiple live action films.

Recently the studio completed three films for The Rotary Club of India and a campaign called 'Poo 2 the loo' for UNICEF which was against open defecation.

The studio believes in putting their heart and soul into each and every work they produce which according to E.Suresh comes only when one has a holistic topographic vision of the work they are doing.

Eeksaurus sets in its vision through a design process, which is the tool of their success, continuously weaving innovative stories for every brand till today.


Vaibhav Studios




Earlier in 2003, Vaibhav Kumaresh with his prior experience of FHOA had established his own 'Vaibhav Studios'; along with a close friend he decided to work on a longer film format for CFSI. With a power packed team of six the studio has numerous fun-filled stories to share. Successfully making Indian content interesting the Buladi AIDS awareness ads for West Bengal government, Simpu, the Bhoot series, Amaron Battery and many more channel ids and commercials are popular with the public.
 
'We scale up when there is work and we dismantle so our core team always remains steady'
— Vaibhav Kumaresh

According to him it's an ideal way to run a boutique studio in India as you can bounce off each other's energy and the financial overheads are much lesser. The team is currently working on series of tele-feature films (48 minutes each) - 'The Return of the Jungle'.

The film is self-funded as according to Vaibhav, to work with TV channels in India, commissioning a fresh project is distressing as the amounts granted are very miniscule.


Paperboat Animation Studios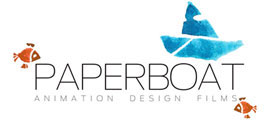 'Big things comes in small packages' demonstrating this statement is Mumbai-based Paperboat Animation Studios, their film 'Goopi Gawaiya Bagha Bajaiya' (2013), won several laurels for the nation. A small-dedicated team of about 25, lead by Shilpa Ranade has worked hard to make this 78 minutes feature length-animated film happen. Her husband the renowned artist and filmmaker Soumitra Ranade along with Ashish Mall and Mayank Patel, started the studio in the year 2011. The studio has previously worked on 'Alibaba and 41 Thieves' and the animated TV series of 'Shaktimaan' they are currently working on the pre- production of an animated feature film based on Tagore's 'Kabuliwala' and a 2 minute animated video for Nestle.



Nestle
 
'The main challenge for a small studio which doesn't want to do back end work is to survive'
— Soumitra Ranade

He has also dabbled in fields apart from animation like book design, audio visuals, mobile applications and their work on live action films like 'Albert Pinto Ko Gussa Kyun Aata Hai' and documentaries like 'Khoob Asti Afghanistan'. This has helped them pull through and independently fund their own exciting animation projects.