A solar cooker is a device which uses sunlight- a renewable energy as its fuel source .They use no fuel, other than sunlight and hence they incur no cost. Humanitarian organizations are promoting their use worldwide to help reduce deforestation and desertification, caused by using wood as fuel for cooking. Solar cookers are a form of outdoor cooking and are often used in situations where minimal fuel consumption is important, or the danger of accidental fires is high.


Solar cooker [Image source]

Working principle
There are a variety of types of solar cookers, over 65 major designs and hundreds of variations of them. The basic principles of all solar cookers are:

1.Concentrating sunlight: Some device, usually a mirror or some type of reflective metal, is used to concentrate light and heat from the sun into a small cooking area, making the energy more concentrated and therefore more potent.

2. Converting light to heat: By using black on the inside of a solar cooker, as well as by using certain materials for pots, the effectiveness of turning light into heat is improved. For example a black pan will absorb almost all of the sun's light and turn it into heat, substantially improving the effectiveness of the cooker

3. Trapping heat: Isolating the air inside the cooker from the air outside in a solar cooker is important for its functioning. Using a clear material, like a plastic sheet or a glass cover, will allow light to enter, but once the light is absorbed and converted to heat, the plastic sheet or glass cover will trap the heat inside. This makes it possible to reach similar high temperatures on cold and windy days as on hot days.


Advantages
*Solar ovens/stoves can be used to prepare anything that can be made in a conventional oven or stove—from baked bread to steamed vegetables to roasted meat. Since solar ovens are placed outside, they do not contribute unwanted heat inside houses.

*Solar cookers use no fuel, which means that their users do not need to fetch or pay for firewood, gas, electricity, or other fuels.

*Solar cookers do not produce any smoke, unlike the typical wood fired cooking stoves which produce carbon monoxide, noxious fumes, ashes and soot, which make a home dirtier.

*Unlike cooking over an open fire, children cannot be burned by touching solar cookers, which are made from the cardboard or plastic and do not get hot. Unlike all fuel-based cooking arrangements, solar cookers are not fire hazards.


Disadvantages
*Solar cookers take a long time to cook food compared to an oven. Using a solar cooker therefore requires that food preparation be started several hours before the meal. However, it requires less hands-on time cooking, so this is often considered a reasonable trade-off.

*Cooks may need to learn special cooking techniques to cook common foods, such as fried eggs or flatbreads like chapatis. It may not be possible to safely or completely cook some thick foods, such as large roasts, loaves of bread, or pots of soup, particularly in small panel cookers; one may need to divide these into smaller portions before cooking.

Solar cookers are less usable in cloudy or rainy weather, so some fuel-based backup heat source must still be available to cook food at these times. Some solar cooker designs are affected by strong winds, which can slow the cooking process, cool the food, and disturb the reflector.


Solar cookers in India
India is a country with many villages still unconnected to the power grid and with millions of people still depending on kerosene lamps for lighting and firewood for cooking. Using renewable energy in the form of solar energy in a country with 300 days of bright sunshine is very relevant in this age of rising energy costs and increasing environmental damage. Though the ministry of new and renewable energy has tried to make the solar cooker available to villages, the slow cooking time and the lack of awareness among villagers has resulted in the solar cooker not being widely accepted, although it comes with a hefty subsidy in excess of 50%. Considering the huge amount of capital the government can save by adopting solar energy in rural India, it is necessary for the government to popularise it in an effective way.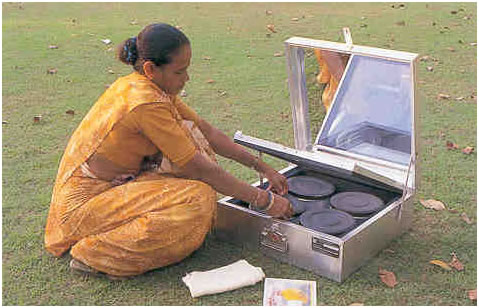 [Image source]

Types of solar cookers

Hybrid solar cooker: A hybrid solar oven is a solar box cooker equipped with a conventional electrical heating element for cooking on cloudy days or at night time. Hybrid solar ovens are therefore advantageous. However, they lack the cost advantages of solar cookers, and so they have not caught on as much in the third world countries where there is an extreme lack of electricity or fuel sources.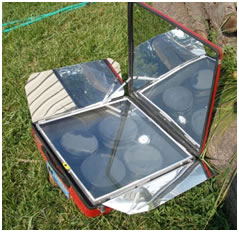 Hybrid solar cooker  [Image source]