Varanasi
Varanasi, said to be the oldest living city in the world, is inhabited on the left bank of the Ganges and is world famous for its Ghats. This holy city has been the seat of Aryan religion and philosophy It was also a centre of arts, crafts, music and dances . It also flourished as a commercial and industrial centre famous for its muslin and silk fabrics, perfumes, ivory works, and sculpture as well as for wooden toys, bangles made of glass and brassware.

Varanasi is still known for lacquered toys and miniature utensils. The sets of birds, animals, orchestras, soldiers and dance ensembles are made in wood, gaily painted and packed in boxes. The toys can be found in all sizes and prices --- from a 1 inch mobile to a large 2 feet tall doll, and with prices ranging from Rs 10 upwards.

These toys are made in many centers in Varanasi by local craftsmen but for selling them, the popular sites are the Ghats and the galis near the river bank which attracts thousands of tourists everyday.

People
Banaras is older than history, older than tradition, even older than legend and looks twice as old as all of them put together" as said by Mark Twain, its very befitting for Varanasi to be the centre of such ancient craft of toy making and toys which have thousands of mythical and religious stories behind them!

Besides Hinduism, Varanasi is also an important centre for Buddhism and Jainism. All the religions sustain peacefully here. The people of Varanasi are fun loving and relaxed. Nevertheless, they are very much attached to the culture of Varanasi and believe in carrying on the family traditions.

No different are the toy makers, who keep on increasing the range of their toys according to the changing taste of people and the market competition. The people of Varanasi celebrate all religions and their festivals. Also, the craft which was once only confined to Hindu myths and traditions has widely opened its arms to embrace other cultures, their myths and traditions in the form of the wooden toys.



A boat at a ghat in Varanasi decorated with palm prints.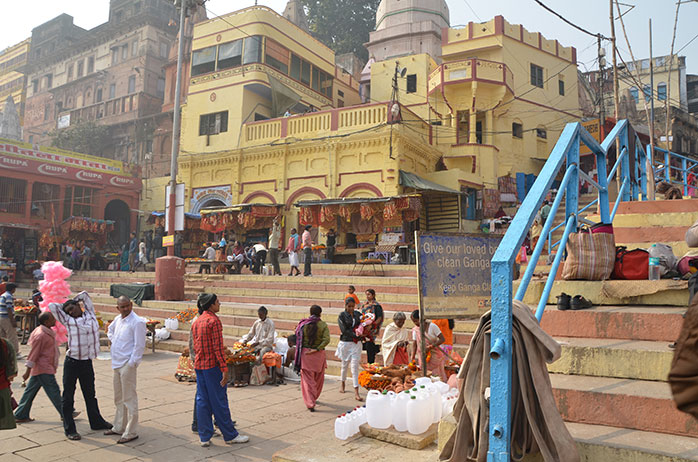 Vendors sit on the steps at the Ghats and vend freely under open sky.